Animals feature a lot in Steampunk living, and why wouldn't they, they're adorable. From dogs and cats to birds and fish, animals have been a part of our lives for years, they have a special place in our hearts. This collection of Steampunk Animal Posters celebrates the wonders of the animal kingdom in true Steampunk fashion.
Animals play an important part in a Steampunk alternative history. In the days of a Victorian past we couldn't have imagined all the strange and interesting animals that walked the earth and swam in the oceans. Tales of terrifying creatures which lived in the deep blue sea both scared and amazed us. New and exciting discoveries brought us animals from other countries which were beyond even our wildest dreams. Certain animals feature more strongly than others, like the Octopus or Giant Squid and the Owl and Raven, but as you can see here, many other popular critters get a glorious Steampunk make-over.
These Steampunk Animal Posters are available in different sizes and paper styles so you can get the perfect match for your home.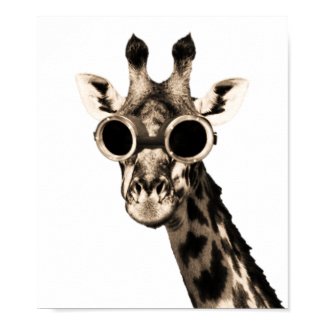 This retro style picture is one of my favourites. It's simple but it looks really cool. A sepia coloured Giraffe wearing Steampunk style welding goggles sits on a plain white background. It really is a minimal design but it has maximum impact, it just looks so stylish. The benefit of something being quite minimal is that you can place it almost anywhere in the home. It's a lovely print which would look good as a large feature piece or as a smaller print.
Giraffe With Steampunk Sunglasses Goggles Poster by The_Shirt_Yurt
Continue reading